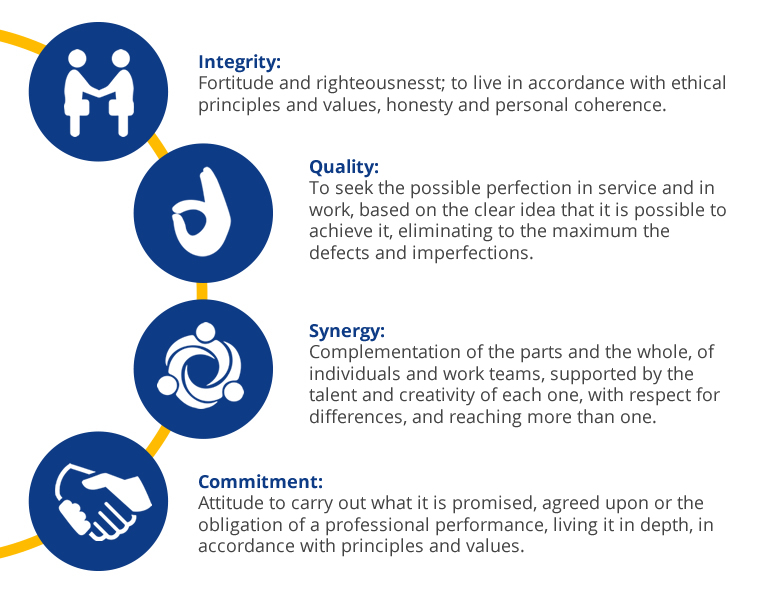 Palmaseca Free Trade Zone recognizes and appreciates the importance of their human team, knowing that it is through their commitment and management that they achieve the established objectives. This is why the Human Resource Management is framed within the following policies:
Occupational Health and Safety Management System Policy
Alcohol and Psychoactive Substances Prevention Policy
Policy on prevention of workplace harassment behavior and psychosocial risk factors
Leave of absence Policy
Benefits Policy
Vacation Policy
Sick Leave Policy
Wage Compensation Policy
PRIVACY NOTICE
In compliance with Law 1581 of 2012, Decree 1377 of 2013 and Decree 1074 of 2015, ZONA FRANCA PERMANENTE PALMASECA - OPERATING USER OF ZONA FRANCA (hereinafter referred to as "THE COMPANY"), legally constituted company, with the pricipal domicile located next to Alfonso Bonilla Aragón airport, in the municipality of Palmira, department of Valle del Cauca, identified with the NIT 800.215.583-8, it is allowed to inform that in development of its social object and in compliance with the legal obligations that are applicable, may collect, store, use, process, transmit and / or transfer personal data in accordance with current legal provisions and the provisions of the Personal Data Processing and Protection Policy (hereinafter "PTDP") adopted by THE COMPANY.
Manage and improve our comprehensive offer of services, framed within the free zones regime, to ensure customer satisfaction.
Palmaseca Free Trade Zone is considered a strategic ally of its business partners, committed to continuous improvement, compliance with legal requirements, adequate management of financial resources and risk management.
Integral System for the Prevention of Assets Laundering and Financing of Terrorism

The Palmaseca Free Zone has an Integral System for Prevention of Assets Laundering and Terrorism Financing - SIPLAFT (by its Spanish abbreviations), which groups together a set of policies, guidelines and tools that the Company implements to prevent and control the occurrence of situations or activities related to assets laundering and financing of terrorism.

DEFINITIONS:
Assets laundering: process by virtue of which the assets of criminal origin are integrated into the legal economic system with the appearance of having been obtained in a lawful manner.
Financing of Terrorism: Collection or provision of funds with the knowledge that they will be used to commit acts of terrorism or to contribute to the commission of terrorist acts.
F.I.A.U: Financial Information and Analysis Unit (U.I.A.F. by its Spanish abbreviations), attached to the Ministry of Finance, aims to prevent and detect possible ML / TF operations in different sectors of the economy, through the operations reports that must be made.
CTR: Currency Transaction Reports (ROE by its Spanish abbreviations)- Transactions in cash equal to or greater than COP $ 10,000,000.
SAR: Suspicious Activity Reports (ROS by its Spanish abbreviations)- Operations that are not related to the economic activity of the user or that due to their number, quantity or particular characteristics, leave the parameters of normality and that can not be reasonably justified.
TOOLS OF THE SYSTEM FOR THE PREVENTION OF AL/TF.
All activities carried out by the Company, have adequate procedures for the implementation of controls that guarantee the normal development of the management and with appropriate mechanisms to detect situations or risk events, especially those related to AL/TF, for this the Company has the following tools:
Levels of hierarchy, functions and level of responsibility in relation to the SIPLAFT.
Compliance Committee.
Audits to SIPLAFT.
Procedures, instructions and guidelines for linking and staying managers, customers, employees and suppliers.
Update of customer, supplier and employee data.
Queries in the background checklists.
Instructions for Reporting Suspicious Activities (SAR) and Currency Transaction Reports (CTR).
Warning signs according to the Company's corporate purpose.
Code of ethics, conduct and good governance, among others.
Human Resource Management Policy
Palmaseca Free Trade Zone recognizes and appreciates the importance of their human team, knowing that it is through their commitment and management that they achieve the established objectives. This is why the Human Resource Management is framed within the following policies:
Occupational Health and Safety Management System Policy
Alcohol and Psychoactive Substances Prevention Policy
Policy on prevention of workplace harassment behavior and psychosocial risk factors
Leave of absence Policy
Benefits Policy
Vacation Policy
Sick Leave Policy
Wage Compensation Policy
Personal Data Processing and Protection Policy
Integrated Management System Policy
Integral System for the Prevention of Assets Laundering and Financing of Terrorism – SIPLAFT